I am gearing up to do some major eating on Thanksgiving...hopefully I won't get too carried away like the old lady in this story:
I Know an Old Lady Who Swallowed a Pie by Alison Jackson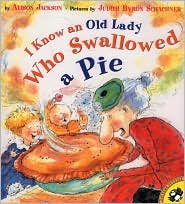 This is such a funny story because of the words and illustrations. It starts off with the old lady who swallowed a pie, a Thanksgiving pie, which was too dry so she needs a lot of other food to go with it. As she swallows cider, squash, salad, rolls, the turkey, and the pot, she becomes bigger and bigger. She ruins Thanksgiving dinner, but makes Thanksgiving fun in another way in the surprising ending.
This book makes me excited to gobble down some pie myself...pie is my favorite part of Thanksgiving dinner!