Remember
Can You Cuddle Like a Koala
by John Butler? We loved it so much that we got it and two other John Butler books for Nathan. I LOVE these books for several reasons: The illustrations are beautiful; they are interactive - having the kids do actions or sounds like the animals; they are short...great for those "I can't stand you for another minute so get in bed and I will read you a quick story" nights.
Can You Growl Like a Bear? asks if you can make the sound of an animal on each page:
Whose Nose and Toes? shows an animal's noes and toes on each page and asks who they belong to.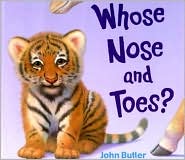 I am glad to add these to our picture book library!